How to Choose the Best Recurring Payment System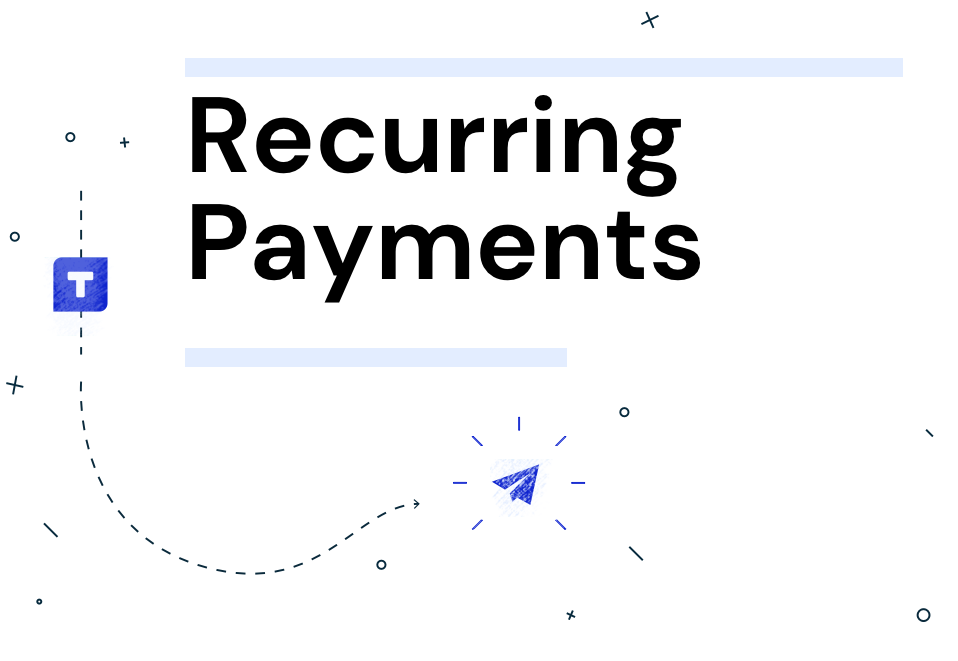 So, you've decided to take your business to the next level and switch to a recurring billing model. First of all, congratulations. You're going to save a ton of time (and time is money in business). You're also going to improve customer retention and reap a whole host of other benefits.
But now comes the hard bit: choosing the best recurring payment system. With so many options out there, finding a payment system that ticks all the right boxes can seem like a challenge, especially if you're just starting out with subscription-based sales.
Factors to Consider When Looking for the Best Recurring Payment System For Your Business
Obviously, the best recurring payment system will make recurring billing super easy.
But what are some of the other things you should think about when choosing a recurring payment gateway? Let's take a look.
1. Countries supported
Your first consideration should be whether or not the recurring payment system serves your country.
For reference sake, TillyPay is currently available in 39 countries, including the U.S., Canada, the U.K., Australia, New Zealand, Singapore, Hong Kong, Japan, Austria, Germany, and Poland among others. Because TillyPay is powered by the popular payment gateway Stripe, it supports every country Stripe supports.
2. Payment types
From credit and debit cards to ACH payments and wire transfers, you probably want to offer a variety of payment options to your customers. As such, the best recurring payment system should allow multiple payment options, too. Bonus points if they're compatible with e-wallets.
Speaking of payment types, you should also determine whether you want to process recurring payments only or charge customers for one-time purchases, as well. The best recurring payment system will let you do both.
3. Subscription plans
One thing that all the best recurring payment systems have in common is that they offer an unlimited number of customizable subscription plans.
Here are a few things you should ask yourself here:
Can the system support subscription plans that vary depending on price and contract length?
What pricing models are available? Does the system support things like prorated payments, credit notes, metered billing, and deferred charges?
Can you customize recurring billing cycles? Or will you — and your customers — be stuck with the standard weekly/monthly/yearly plans?
Does the payment gateway allow you to offer free trials?
Will you be able to provide discounts or promotions?
How easy is it to cancel or re-activate a subscription?
By the way, here's what a free trial with TillyPay looks like: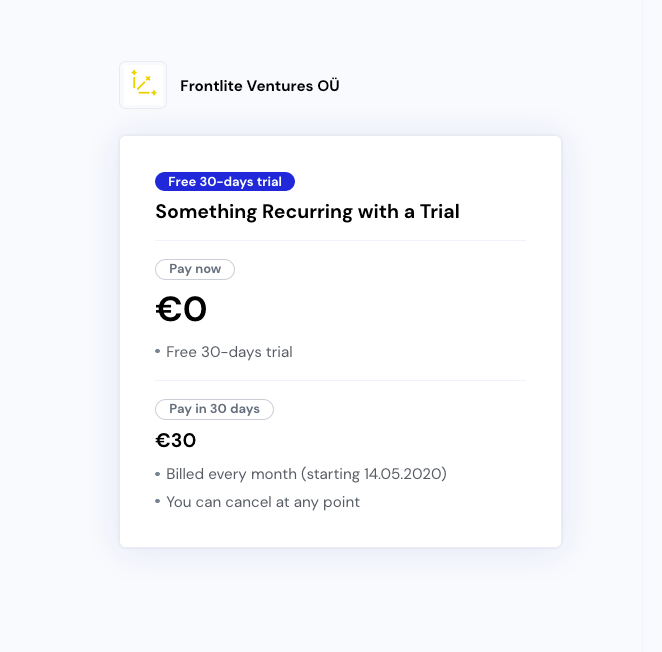 4. Cost
Most payment gateways don't charge extra for recurring billing. Rather, they charge per transaction. However, some payment systems have hidden fees (such as set up or monthly fees), so make sure to read the small print carefully.
Transaction fees matter, too. Some recurring billing systems have higher transaction fees than others. Often, transaction fees depend on the country your customers are based in. For example, if most of your customers are based in Europe, it probably doesn't make much sense to use PayPal, which charges 4.4% plus a fixed fee depending on the currency outside the U.S. In this case, you'd be better off using TillyPay, which charges only 2.4% plus 25 cents for European cards.
Also, some payment gateways provide discounts for businesses that process a high volume of transactions. Here at TillyPay, we offer bulk discounts to anyone who does more than 5,000 (€, £, $) a month in sales.
5. Setup process
The best recurring payment system is one that is super simple to set up, regardless of whether you have a team of developers working alongside you or if you're a one-person operation with no programming knowledge.
The really cool thing about TillyPay is that it lets you receive payments (either recurring or single) with a simple web link.
Here's how it works: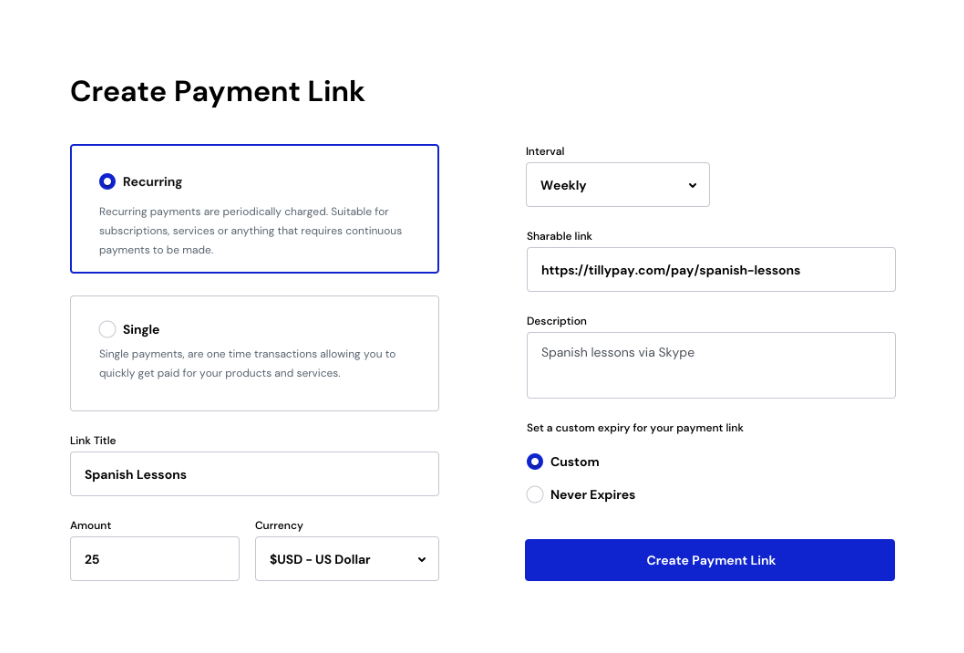 However, while the ease with which you can integrate the recurring payment system into your own website is important, you should also determine whether it can integrate with other business software, like the accounting software you're using.
TillyPay integrates with Stripe, which, in turn, has countless third-party integrations. We're also working on integrations with other payment providers and CRM and accounting tools.
6. Security
Your number one priority when it comes to selling online is to ensure that your customers' transactions are safe. Every online business has to be Payment Card Industry (PCI) compliant when storing, processing, and transmitting credit cards.
With the best recurring payment system, you don't have to worry about meeting all the PCI requirements — the system will do it for you. The best recurring payment system will also provide data encryption.
7. Customer service
Does the payment gateway care about its customers? Ideally, you want to opt for a recurring payment system that offers help with the onboarding process and is there to answer all your questions when something goes wrong.
The best recurring billing system will also help you migrate your data to another payment provider if you decide that it's time for you to move on. With TillyPay, you don't even need to get in touch with us to download payment/customer data. The information is right there on your dashboard and is available for download at any time: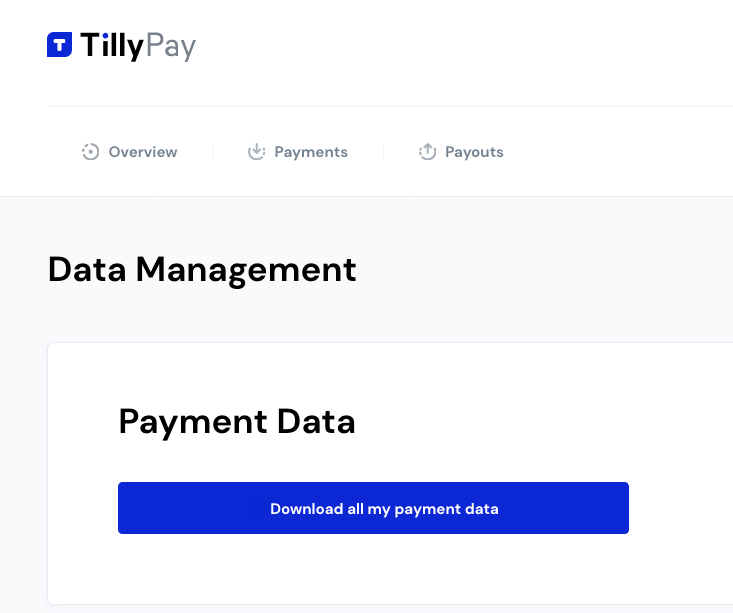 8. Checkout process
Most recurring billing payment providers let you customize the checkout experience, but some don't. Some (cough PayPal cough) might even redirect customers to an external website. This might not seem like a big deal to you. But the change in design, logo, and URL — even if it's temporary — can confuse and discourage customers from completing the transaction.
Speaking of a smooth checkout process, what happens if a payment is declined, whether due to an expired credit card or network downtime time? Will you lose a sale (and maybe even a customer), or will the system automatically retry the failed payment to help you recover lost revenue (known as dunning management)?
Systems with dunning management can automatically send email reminders to customers whose cards have been declined or are about to expire, giving them time to update their information.
Final Thoughts
The best recurring payment system for you depends entirely on your business. However, regardless of which payment gateway you decide to go for, make sure that it's easy to set up, offers maximum security, and has excellent customer service.
TillyPay meets all the criteria. But it also has something else going for it — it lets you receive payments with a simple web link. There aren't many recurring payment gateways that let you do that.