How to build trust with your customers when collecting payments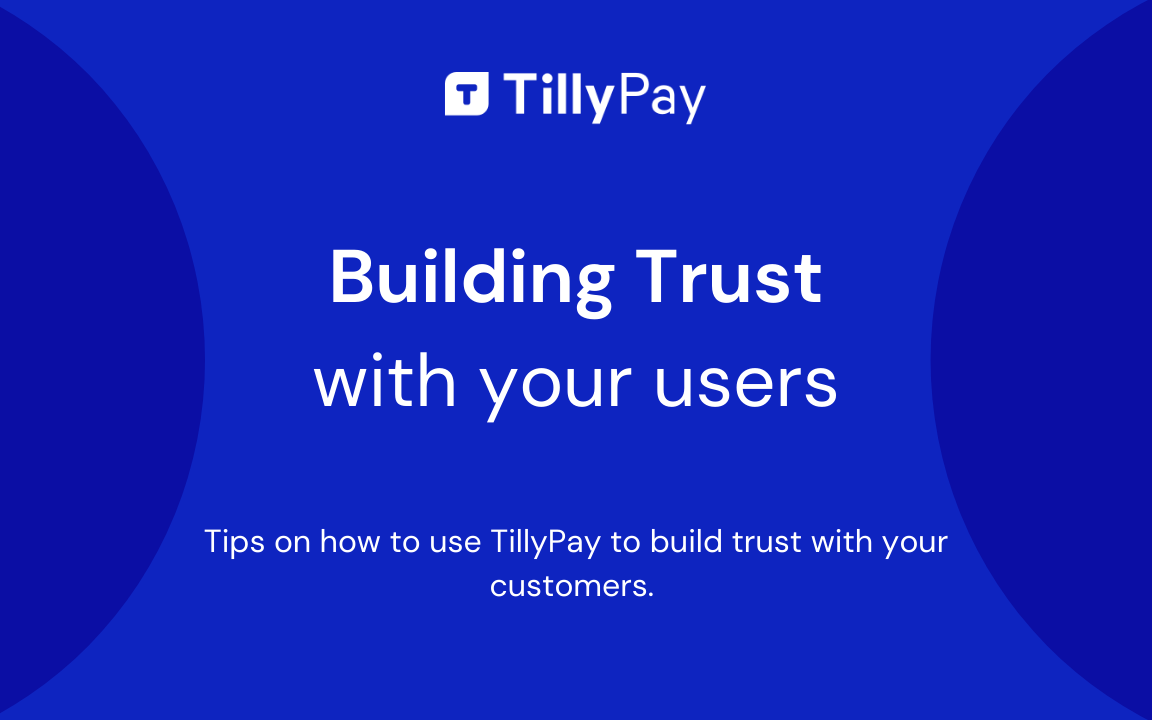 Successfully collecting payments is the cornerstone of any e-commerce business. You can't sell items without generating revenue, after all! In order to collect payments from customers, you need to build a website that evokes trust with your users. You wouldn't enter your credit card details and other personal information on a site that made you feel iffy, and you shouldn't expect your customers to either. Part of what instills trust in an e-commerce site is the design, the security, and the payment and information collection process. Let's explore how you can create the best website experience possible to decrease your cart and checkout abandonment rate.
Build trust with customers through a well-designed website
Ever landed on a website that looks straight out of 1997 and bounced right back out? You're not alone. Users judge a website within half a second and 57% of customers will not recommend a website with a poor design. This isn't just about web experience on desktop, though. You need to keep your mobile design top of mind, as 50% of U.S. e-commerce sales occur on mobile devices. In order to build trust with your users, you need a website that looks modern and up-to-date but is also responsive in its design. Decreasing your bounce rate is the first step to encouraging customers to make a purchase on your website, so design is an important factor to keep in mind. If you don't believe UX design is your forte, rely on templates to help you achieve your ideal website and handle responsive design.
Build trust with customers by keeping the payment gateway on your website
When a customer is ready to buy, you want to keep them within your business's website, as opposed to having them leave to complete their purchase. Integrate with an application that allows you to maintain your branding throughout and keep the paying customer on your website. An onsite payment gateway, like Stripe, keeps users on your website and your branding present, which is better for user trust and encourages the completion of a purchase. While many e-commerce business owners believe that implementing a payment gateway is complicated, there are no code options available that make implementing Stripe a breeze.
Build trust with customers through implementing proper security measures
We all know that security of the web is important, and companies like Google have taken extra steps to ensure you are aware of whether or not the website you're entering information into is secure. 58% of users in a survey dropped out at the checkout stage due to uncertainty over the payment security of a website. You should always strive to provide a secure experience as an e-commerce shop and an SSL certificate is a great way to do this. Aside from favourably impacting your search engine results pages (SERPs) ranking, it also labels your website as "secure" via the browser. If your website doesn't have an SSL certificate you should never collect personally identifiable information through it. An SSL certificate creates a secure connection for users sharing information with your website. 50% of cyber attacks target small businesses, so it's important to protect your business and your users when collecting information and payments.
Consider choosing a payment processor that doesn't allow any of the personal or credit card information to land on your servers and securely stores that information themselves. Stripe, for example, is certified as a PCI Level 1 Service Provider, which is the most stringent level of certification available in the payments industry.
A website that doesn't function well can also invoke distrust. 13% of customers abandon a cart due to website crashes or errors. Make sure your website is capable of handling the traffic by choosing the right hosting provider and that you save the customer's session, in case any errors take place.
Build trust with customers by only collecting essential information
It can feel tempting to grab as much data on who your customers are at this stage, but it can drastically impact their willingness to go through with a purchase. This can result in both cart or checkout abandonment and impact revenue. There are other ways to learn who your customers are and the purchase stage is not where you need to collect this information. A long checkout process with multiple pages or a site that forces you to fill out an entire profile to make a small purchase is going to result in increased abandonment. People don't want to give out extra information that they don't have to.
The number of required form fields can impact checkout abandonment, so consider limiting how much information you collect. While it's important to customize the information you collect on your users, be sure to require your customers to only fill out what you need to complete a transaction. You can always attempt to collect additional information post-purchase through e-mail marketing initiatives, offering discounts or gifts for those who provide their birthdays, or gamification of profile completion. Get creative after you've made them an official customer.
Encouraging an increase in completing a checkout process with your customers is all about how you present your business and website to them. You need to build trust with your users and there are many factors that determine whether or not a person will trust your website with their purchase and their information. Remember to keep the website design, security, as well as the payment process and information collection top of mind when building your e-commerce website. Source examples of websites you trust with your personal information and strive to create a similar experience for your own users.