Stripe is available in the United Arab Emirates (UAE)
In this article, we take a look at how the launch of Stripe in the UAE will improve the fortunes of businesses who operated within the Middle East
In news that will cause a major shake-up in the e-commerce market in the Middle East, Stripe is launching in the United Arab Emirates as of May 2021. Businesses that operate online within the country will now be able to use the platform to accept online payments.
As a serious indicator of the company's intent, Dubai has been chosen as the city of its new regional headquarters. The choice of Dubai as the starting point of expansion in the region wouldn't surprise too many considering the UAE's booming digital economy which is attracting the attention and investment from major fintechs firms and start-ups.
The online payments company has long had its sights set on the Middle East and North Africa as it looks to build momentum following recent successful launches in Singapore, Australia and New Zealand.
Why is the launch of Stripe so important for UAE businesses?
As one of one of the world's most valuable private fintech firms, the presence of Stripe in the UAE will accelerate the growth of e-commerce in the region. Since launching in the United States over a decade ago, the Stripe payment platform has revolutionised the online payment market with its ease of use, customer service and competitive rates.
UAE businesses that adopt Stripe as their online payment platform will have an advantage over those who do not. Stripe makes it far easier for our users to set up and run their businesses online while also improving the reach of the business since they can accept payments from all over the world.
Sign up to TillyPay to get access to Stripe
If you are a UAE-based entrepreneur, business owner or a merchant who's looking to expand into e-commerce, consider signing up to TillyPay to accept online payments.
Once you open an account with TillyPay, you'll automatically gain access to a Stripe account as well as all the benefits that TillyPay has to offer.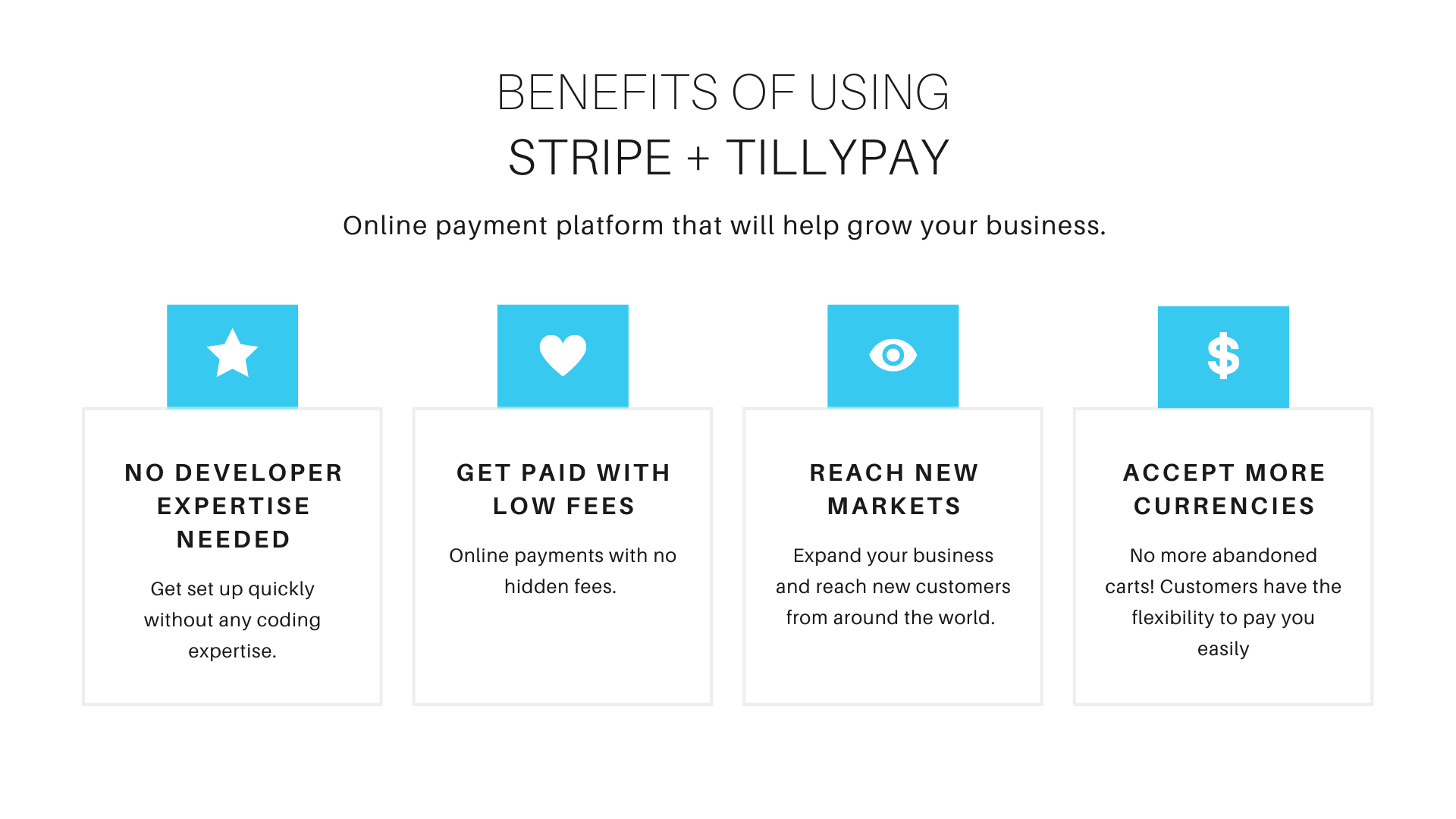 No Developer Needed:  It can be difficult to get your payments with Stripe setup without a developer. TillyPay removes the need for developer expertise, just copy a few lines of code and your payment process is set up.
Getting an Invoice Paid: It doesn't matter if it's a regular payment or a one-off payment from a client somewhere in the world, TillyPay gets the money across to you quick and hassle free.
Create Subscriptions: If your business offers a monthly subscription for an e-service, this can be easily set up to ensure the money comes into your account on time each month. Get subscribers from all over the world in a couple of clicks.
Accept 132 Currencies: Your online business may have or soon grow to have a global customer base, so it is important you can take currency in its many forms. Now you can since 132 currencies are accepted with our payment platform.
---